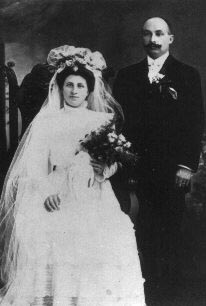 Anton Miller married Marie Nilles in Chicago's St. Gregory Church on 23 Aug 1909.
---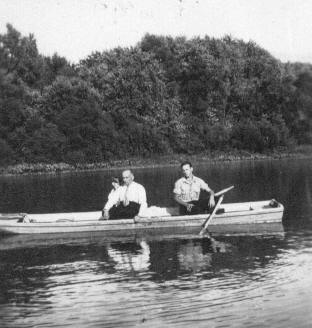 Anton (left) and his son Nick take a boat ride. I do appreciate the male pattern baldness both men left me as an inheritance.
---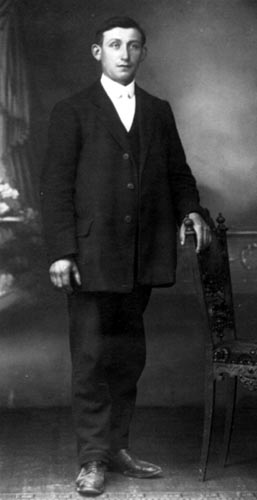 A young Anton poses for a shot in Ettelbruck, Luxembourg.
---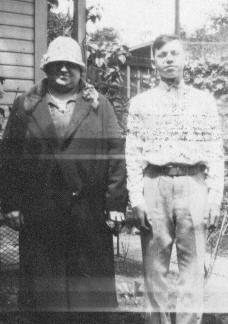 Marie Nilles-Miller and Nick Miller at their home in Rogers Park.
---
Anton Miller seems a powerful figure in my imagination, although I know no very specific stories about him. What has been passed down and related to me about my ancestor was that he was a stern, looming, and authoritative figure. Perhaps he owes such a reputation to his own father, Michel Miller, a school teacher in Boulaide, Luxembourg.
Anton Miller was born to Michel and Katharine Zeimen on 2 Sept 1876. in Boulaide, a tiny village in the historic and picturesque rolling hills of the Ardennes. Both parents were transplants to Boulaide, having lived for a time in several villages including Winseler, Eschdorf, Heiderschied, and Kautenbach. The family seemed to be on the move even through Anton's formative years. In 1888, when Anton was 12, they left Boulaide and finally settled in Dillingen.
In 1901 Anton was working with leather as a saddle-maker. He married Anna Schroeder of Tadler that fall in Eschdorf and they set up a home in Ettelbruck. The young couple's first child Catherine, died at birth in 1901. The next year they tried again and gave birth to a son whom Anton named for his father Michel. Not much is known about this first marriage. There are some records, perhaps mentioning other children, but nothing is certain. What else is not certain is how the marriage ended and why when Anton decided to make the long trip to America, he went without his wife and without his son. Times were very tough in Luxembourg and many were heading off to America's fertile Midwest. Stories were printed in local papers about the successful journeys of neighbors that often inspired readers to venture out. In Anton's case, it was probably the emigration of his youngest brother Peter in Feburay of 1908 that made the trip to Chicago a little easier to swallow. Peter was living with a cousin George Miller in the Luxembourgish neighborhood of Rosehill in Chicago and also worked as a saddler.
Whatever specifically motivated the move, Anton bought a ticket in 1908 aboard the Red Star Line's Vaderland, out of the port of Antwerp in neighboring Belgium, and entered Ellis Island on July 6th. When processed he was described by officials as being 5'3", with dark hair and brown eyes. He told officials he was married and was en route to visit friend Charles Sweder in Blue Island, IL. He had $35 in his pocket and the Luxembourg Gazette announded his safe passage and his plans to stay. He traveled on the same ship as his future sister in law, the young Elise Nilles and her young cousin Marguerite Schuller. All three were native to Bouaide. The young women, like Anton, were going straight to siblings who set them up and helped with the rough transition in the strange new city.
The next year, 1909, was a big one for Anton. According to family tradition, he married Marie Nilles, daughter of Dominic Nilles and also of Boulaide, at St. Gregory Church in Chicago on August 23rd. The exact record of their marriage seems a bit off since Marie passed Ellis Island in November after crossing the ocean in the Lapland. She told officials she was single and going to visit her sister Elisa, wife to Peter Michels. Another problem is Anton's mysterious marriage to Anna Schroeder. His son was still in Luxembourg and, as of the summer previous, he was still married. Nothing is known of the intricacies surrounding these dates in 1909.
In 1911, the family of Anton and Marie was struggling on Chicago's rough ethnic neighborhoods just northwest of downtown. The area was full of work, but the jobs were as tough as the neighborhood. On March 18th, they gave birth to their first son named Nikadem Miller, my grandfather. Things must have been starting to go well, because by 1913 they had set up house among other Luxembourgish immigrants in Rogers Park at 6025 Ridge Avenue. In 1912 their second son Peter was born and in 1913 Anton's first-born son Michel made the journey across the ocean paid for by an uncle in Luxembourg aboard the Lapland to come live with the family in Chicago. The family was six in 1914 when another son, Harry, was born.
Harry died at the age of four months and was not the only of Anton and Marie's children to die young. Peter was struck down at the age of 16, victim of diptheria. Family legend tells that Anton was deeply troubled by the death of Peter in 1928 and that, for some reason, he blamed his son Nick for the death. The guilt of this accusation caused Nick to tell this story to his children years later, although not much is known about this dark chapter. It seems that Marie, although her heart was broken, kept everyone together with her love.
Anton and Marie had their first girl in 1916 and another in 1920. Both are still alive and living in the Chicago area. Their youngest, Eugene Miller, was born in 1922 and is remembered by me as a kind and endearing old uncle.
Anton worked on buildings helping run a janitorial company throughout the 1920's and 1930's. His oldest, Nick, would go on to work with leather like his father for a time, fashioning camera cases instead of saddles. Soon age caught up with Anton and he was forced to slow down. On May 12, 1936, he suffered a heart attack and died in his home on Warner Avenue. He was buried at the same grave as his beloved son Peter at St. Joseph Cemetery in River Grove, IL.
Marie kept the family together and in 1941, in the midst of the tumult of World War II, made a trip back to Boulaide to say good-bye for the last time to friends and family in Luxembourg. She returned to see the births of a few grandchildren before her health failed and death came to her on March 1, 1946. She was able to see her homeland before the forces of history ripped the Ardennes apart during the Battle of the Bulge.
Anton and Marie's stories are not very unique and common to many Americans who made their way across the ocean. Seeking opportunity, Anton and Marie came to America and began setting the foundations for their descendants to gain a foothold. I am appreciative, as their great-grandchild, for their sweat and their long hours. I am thankful for their sacrifice and their patience as they tried to make ends meet in a place that did not speak their language or acknowledge their customs. As their descendant I am aware that I carry their hope, that inspired them to risk it all and enter the unknown.
Luxembourgers to Chicago document gallery
---
Links to related families:
None are online yet.
---
Links to sites by those working on related lines:
---
Info on Luxembourg in Chicago:
---
Special thanks to Rene Daubenfeld for his help with my research on Anton Miller I appreciate everything you have taught me. Thanks also goes out to Jim Heckenbach. Wish I had more time, friend.
---