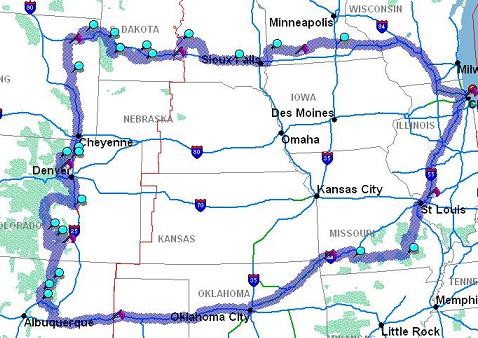 Photo Album: Click each thumbnail for a larger image.
The big skies and openness of the Badlands in South Dakota.

Nothing typifies Wall Drug as a tourist trap more than a dusty dummy of Wild Bill Hickock aiming to settle things at a poker table. Sigh.

The tomb of Calamity Jane sits right next to her alledged lover "Wild Bill" Hickock in Deadwood, SD.

The dead ponderosas for which the famous town of Deadwood, SD, is named in the distance.

At Mount Rushmore NM, SD. In the aprking garage attached, there were cars from every state. Quite a monument to the U.S. and to nature!

Washington peers through the pines at Mount Rushmore, SD. There was a storm forming.

Taking down the tent after a cold and hungry night above Cook Lake in the Black Hills of Wyoming.

Just north of Cheyenne, WY, we encountered tremendous wall clouds with whipping winds. I passed on my idea to stop at the rodeo...
Statistics:
Dates: Summer of 2005, eleven days.
States Explored: WI, MN, SD, WY, CO, NM, TX, OK, KS, MO, IL
Slept in: Rice Lk SP*, MN; Mitchell, SD, Cook Lk, WY*, Loveland, CO; Col. Springs, CO; Carson NF, NM*; Amarillo, TX; Babler SP, MO* (*=tent)
Transportation: 1998 LeSabre
New Frontiers: First time in the West. 6 new states. First time to the Rockies and in desert. Longest trip to date!
Trip Diary:
It was high time for a new road trip and we decided to make this a grand one, planning to drive to the Rockies and back. We did not know whether to attempt a ling distance trip to Santa Fe or Wyoming... so we did both. It was eleven days alternating between adventure and boredom.
Wisconsin to Mitchell, SD: The trip started out rather uneventfully riding through the familiar moraines and dairy farms of southwest Wisconsin and through Dakota in Minnesota. We passed all the classic Minnesotan cereal-producing villages, each with its own gas station, VFW Hall, Lutheran church, main drag, and grain elevator. After a while they all blend together. As the sun went down we searched through the towns for a good place to camp. In the woods, we found quiet Rice Lake SP, laid out our tent and went to Owatonna's Wal-mart to get some supplies, including an air mattress for my aching back.
Rice Lake is a nice little park and wad practically empty when I arrived. The next morning I took a lonely walk to the lake and saw that it was ringed with thick reeds and swamp grass. While sitting in a tree contemplating my upcoming adventures, a deer walked by quite oblivious to me and took a sip out of the lake. This was definitely heaven. Little did I know that the day would end in chaos and uncertainty. It is amazing how the Lord provides though.
The plan for day two was to drive out to the Badlands and find some place to sleep there. Of course, I had no idea how big South Dakota really is. As usual, I read the map wrong. When one travels with me they find that my 15 minutes is really about an hour. We drove along rural roads, what William Least-Heat Moon calls "blue highways," through southern Minnesota. We arrived at the ancient Indian site called Pipestone NM, so named because the stones here were used to make pipes all over the Midwest. A walk through the site is like being back in time. The rocky outcrops are pinkish and soft to the touch. There was a ghostly lone cottonwood in the distance with ribbons hanging off it. They swayed in the breeze. These represent the prayers of the Sioux who come to this place that they consider sacred.
West of Pipestone, the farms slowly yield to cattle pastures and smaller corn fields than I am used to as an Illinoisan. We stopped at the canyon along the Yankton River that Jesse James allegedly jumped while running from his captors after the famous Northfield, MN, bank robbery. Nothing to see there so we moved on, but the car was stalling a bit and the temperature was slowly going up. I shrugged it off, thinking it was the sweltering prairie heat. It was not.