Statistics:
Dates: Saturday March 2, 2013, temps in the upper 20's.
Areas Explored: Northwest IIllinois and Driftless Iowa
Transportation: 2009 Grand Caravan
Eagle Count: Along US-20 near the Apple River (Elizabeth): 1.; Lock & Dam #12 (Bellevue): 8; 2 miles south of Bellevue, IA: 1 nest; Harbor Campground at Sabula, IA: 7; for a total of 17. (This is a loss of 5 from last year.)
Turkey Count: Saw four groups averaging 8 turkeys each in Iowa and Illinois.
Trip Diary:
The gray let up for a few days and temps warmed up to the 30's, after a few days of icy snow, allowing for a pleasant drive across Illinois to the Mississippi River for our annual bald eagle hunt. The Fox River and Rock river were flowing free, so it was a surprise to see the Mississippi iced up. We spotted our first eagle near the Apple River just west of Elizabeth, IL. The ice makes it easier to find wintering eagles, which congregate at meltwater patches to hunt for fish. After a visit to a couple shops in historic Galena, we crossed the Mississippi River at Dubuque and headed straight to our favorite hunting grounds in Iowa.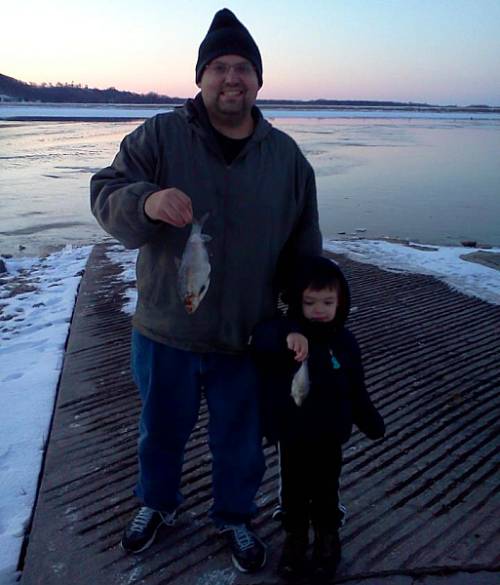 Look what we caught in Sabula.
Lock & Dam #12 in Bellevue was very productive with several eagles actively hunting and eating in trees and along the locks, where the ice was broken up. Andrew spotted a pile of half chewed fish tails in the snow. After Ana's diaper explosion, we headed 19 miles south to the pretty bayous surrounding Sabula, IA.
Sabula's wide open waters were choked with ice, but in the few spots where it was not, a half dozen eagles flew around looking for fish. The fish came to the surface, gasping for air, only to be grabbed by eagles. As dusk set in, Andrew and I invented a game of throwing rocks along the ice. It made a high pitched echoing sound. We made a hole with a large rock and then slid a few of the dead frozen fish that lined the shore by the dozens, trying to get it in the hole. After this sport, we sledded for a bit, until dark. After dinner in Dixon, IL, we headed back to Chicago completely satisfied with our drive.
Galena's historic main drag (below) now houses shops for the upper classes to enjoy, but once was an optimistic lead mining town. It sits at the bottom of the terraced city.