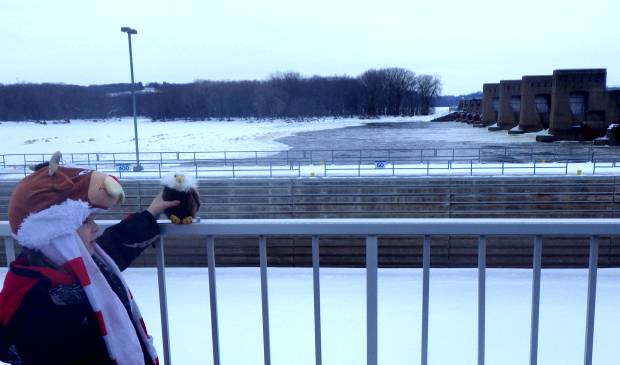 It took us a long time to notice them, but across the Mississippi from here there were more than just stuffed toy eagles at Lock & Dam #13.
---
Photo Album:
Click each thumbnail for a larger image or to view slideshow.
---
Movie Clips:
It was hard to still-shoot eagles so sometimes we tried grainy video.
Statistics:
Dates: a gray and icy Wed., February 12, 2014, temps in the upper 10's.
Areas Explored: Northwest IIllinois
Transportation: 2009 Grand Caravan
Eagle Count: Mississippi Pallisades SP (Savanna, IL): 1;Lock & Dam #13 (Fulton, IL): 5; Lock & Dam #14 (Hampton, IL): 5 for a total of 11. (This is a loss of 6 from last year.)
Hawk Count: Saw way more red-tailed hawks than bald eagles this year.
See 2013's successful hunt here.
Trip Diary:
The 2014 winter was brutal and the snow was record-level deep across the Midwest. It took a long time to find a day suitable for standing outside for even a minute or two. Finding openings in the ice was tougher than ever for us and the eagles. In mid-February a bit of a warm spell hit, if you count temps in the teens to be warm. It was enough to break up some of the ice around certain dams. Our search this year went further south than in year's past because dams in the north were blocked solid. We were led by the Army Corps of Engineers' eagle count this year to new hunting spots. While we saw almost as many eagles as we did last year, they were all far away and hard to photograph.
We began by walking the historic streets of Galena looking for apples and goodies to reward us for the long car ride across northern Illinois. Usually we head west from here, but this time we rode south along the dangerous curves of Blackjack Road and past the Chestnut Mountain Resort into the hills and bluffs. We stopped at Savanna, IL, to look for eagles from atop the bluffs at Mississippi Palisades SP. We did find one juvenile here chowing down on a fish in a tree near the entrance to the park. Across the river are islands and bayous, but everything was packed solid in ice, even the once eagle-laden Sabula Island.
So we continued southward, eventually landing upon Lock & Dam #13 near Fulton, IL. At first, we saw nothing, but upon third glance through binoculars we spotted a whole bunch of eagles sitting in trees and flying across the river. Some were fishing the small break in the ice at the dam wall. They were all very far away, but seeing them glide around made it all worthwhile.
We were losing daylight so we raced south into the Quad Cities and Lock & Dam #14 at Hampton, IL. In the forest preserve that surrounds the dam, we heard eagles singing and saw them flying like ghosts in the dusky sky. Here, so far south, the river was mostly ice free and there were probably more eagles than anywhere on the trip, but the sun left us unable to see them. As darkness took over, we were forced to head home across I-88 until 2015's trip.