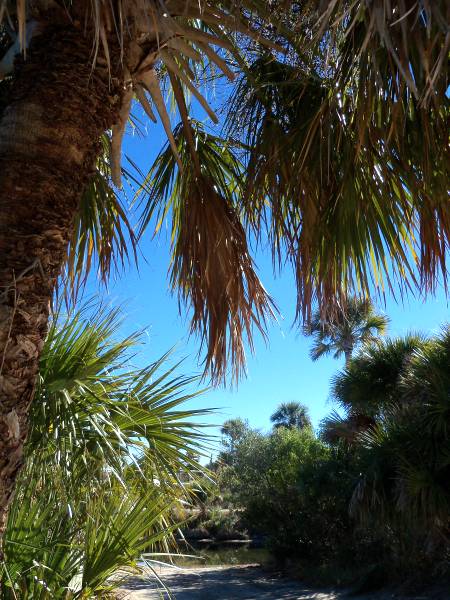 Looking out from a Merritt Island hammock near the bay behind Playa Linda. (above)

Statistics:
Dates: Winter Break- New Years' 2011 for 8 days
Areas Explored: Florida Keys, Tampa Bay, Everglades, Central Florida, Space Coast, Florida Panhandle, New Orleans
Transportation: 2009 Dodge Grand Caravan
New Frontiers: Most of this trip was a rerun, but saw first crocs and drove all the way to Florida Bay
Wildlife: many alligators, 3 crocodiles, dozens of manatees, bald eagles, various herons, wood storks, stingrays, hammerhead sharks, corals, waterfowl, waders, cranes, ospreys, hawks, turkey vultures, armadillos, & one amazing Merritt Island bobcat
Cast: Scott, Jessica, & Andrew
Click here to see last year's New Years' Trip
Trip Notes: Day 1: Drove from Chicago, starting about 5 p.m., overnight making it to Macon in the morning for breakfast. Day 2: Continued driving into Florida, finally stopping to rest for the night in Kissimmee. Day 3: A decent sleep and then took the B-Line to Merritt Island, before heading south to Homestead through the Lake Okeechobee area. Day 4: Drove down and then back up the entire length of the Florida Keys, stopping for a canoe ride in Key Largo and a swim in Key West, before returning to Homestead. Day 5: Explored the Everglades all the way to Flamingo, and then headed across the Tamiami Trail through BIg Cypress, sleeping in Bradenton. Day 6: Spent the day hunting manatees in Tampa Bay and the springs of the Suwanee and then raced to Pensacola for New Years' Eve. Day 7: Drove through rain to New Orleans and then north to Southhaven, MS. Day 8: Drove from Southhaven to Chicago, stopping here and there along the way.