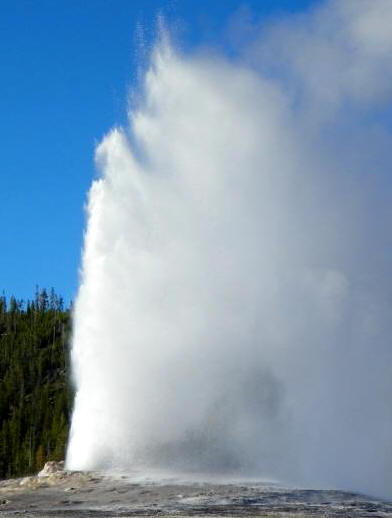 One of the most iconic and unique spots on the globe: Old Faithful in Yellowstone NP, Wyoming.
Statistics:
Dates: June 20 to July 18, 2012, 18 states
Areas Explored: Most of America west of the Mississippi: the Great Plains, Rocky Mountains, Snake River Valley, Pacific Northwest, Northern California, Big Sur, Mojave Desert, Sangre de Cristos, Missouri River Valley, etc.
Transportation: 2009 Grand Caravan
New Frontiers: Longest trip to date, deepest drive down the West Coast, most mileage in one trip
Cast: Scott, Jessica, Andrew (and baby in utero)
Read: A detailed journal written on the road!
Trip Notes: Day 1: Chicago to Albert Lea, MN. Day 2: To Badlands NP. Day 3: To Custer SP, SD. Day 4: To TRNP, ND. Day 5: All day in Roosevelt NP. Day 6: Across Montana to Paradise Valley. Day 7: Secured camp at Mammoth in Yellowstone NP. Day 8: All day in Yellowstone NP. Day 9: South into Grand Teton NP, WY. Day 10: To Craters of the Moon NP, ID. Day 11: Thru Oregon desert to Emigrant Springs. Day 12: The Columbia Gorge to Ilwaco, WA. Day 13: Oregon Coast to Tillamook, OR. Day 14: 4th of July, to Beverly Beach, OR. Day 15: South Oregon to Bandon, OR. Day 16: To Redwoods NP, CA. Day 17: Mendocino Coast to Walsh Landing, CA. Day 18: To San Francisco's Chinatown. Day 19: To Seaside, CA, on Monterey Bay. Day 20: Across Big Sur to San Simeon SP, CA. Day 21: To Barstow, CA. Day 22: Across the Mojave to St. George, UT. Day 23: Escalante to Farmington, NM. Day 24: To Heron Lake SP, NM. Day 25: To Alamosa, CO, in the San Luis. Day 26: To Colorado Springs, CO. Day 27: To Lenexa, KS. Day 28: Through St. Louis and back home to Chicago.