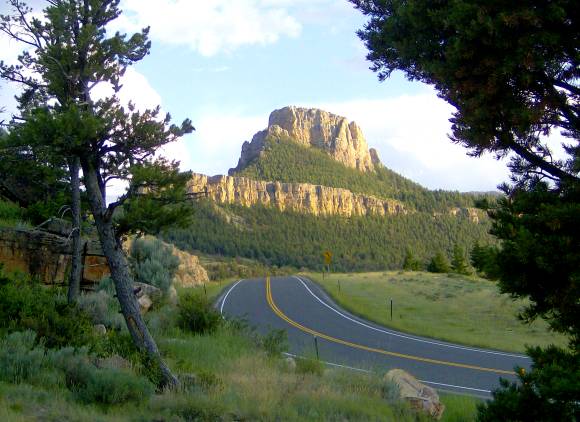 A mountain road winds its way out of Yellowstone NP and into the vastness of Wyoming.


A video that shows exactly what it's like to bring a toddler into the woods for two weeks.
Statistics:
Dates: July, 2009, for 16 days. (Our longest camping trip yet.)
Areas Explored: east Lake Michigan, the Upper Peninsula, the Northwoods, both Dakotas, the Canadian Plains, the Canadian Rockies, the spine of Montana, northern Wyoming (9 states & 3 provinces)
Transportation: 2000 LeSabre
Wild Animals: bison (in rut), elk, 3 black bears, 1 "other" bear, beaver, swan, prairie dog, pronghorn, white-tailed deer, mule deer, wild goat, bighorn sheep, heron, pelican, wolf prints, gulls, geese, feral horse
Cast: Scott, Jessica, Andrew (every day), Israel, Glory, and progeny (days 2 and 3 in Michigan)
Trip Notes: Day 1: Scouting so drove from Chicago to Warren Dunes SP, MI, and then drove back to Chicago. Day 2: Drove back to the Warren Dunes for a swim and then north to Hoffmaster SP, MI. Day 3: Swam in the lake and camped at Hoffmaster again. Day 4: Said goodbye to our friends and continued north along lake to the Straits of Mackinac. Day 5: Swam at Brevort and then explored Seney, camping near Christmas, MI. Day 6: Drove across the UP through waterfalls and iron hills to Duluth, MN. Day 7: Exlored the Minnesota Northwoods and then drove out to Grand Forks, ND. Day 8: Drove to Rugby and then turned northward into Manitoba. Camped in Riding Mountain NP. Day 9: Successfully hunted for animals and then across the canola fields, through Regina, to Swift Current. Day 10: Drove across miles of gravel to the hidden Sand Hills of Saskatchewan and then into the Red Deer River Badlands. Camped at Dinosaur Park. Day 11: Drove across Alberta to scenic Waterton Lakes NP and then south into Montana's Glacier NP. We slept in Kalispel. Day 12: Through Flathead country and then ranches to the grizzly-filled mountains of Gallatin NF. Day 13: Squeezed through Yellowstone, spotting many animals and sites, and then through the night unsure to Lovell. Day 14: Drove through the sky and desert of the Bighorn Mountains, finally camping at the foot of the Black Hills. Day 15: Explored the Black Hills and Badlands. Day 16: Walked the Corn Palace in South Dakota and then east back home.