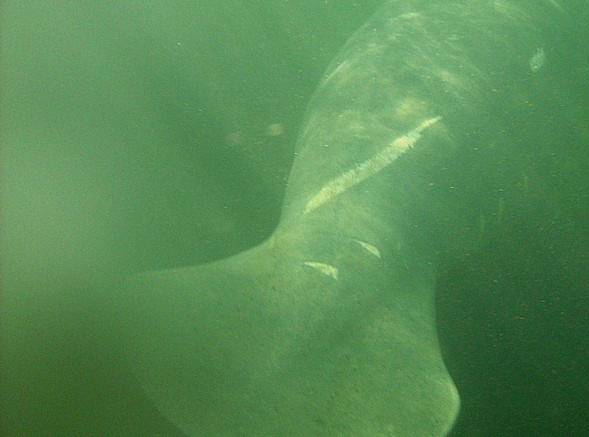 Jessica almost stepped on this playing manatee in Wakulla Springs as she swam.
(above)
Another at Apollo Beach catches a breath.
(below)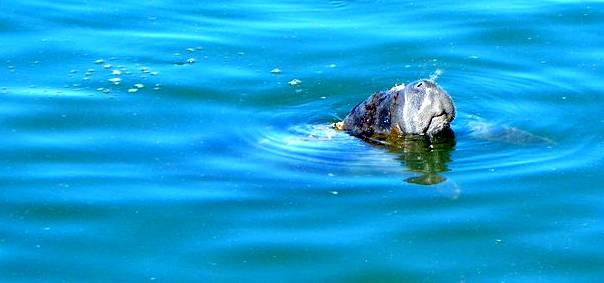 Statistics:
Dates: 10 days, from Dec. 27, 2011, to Jan. 5, 2012
Areas Explored: the Gulf Coast from New Orleans to Naples; Florida's Atlantic coast; the Keys.
Transportation: 2009 Dodge Grand Caravan
New Frontiers: We did some snorkeling and underwater exploration and photography. Camped in Everglades.
Cast: Scott, Jessica, & Andrew
Trip Notes: Day 1: We missed the birds so we drove through St. Louis, overnight into Mississippi. Day 2: Spent all day enjoying the French Quarter of New Orleans and Metairie and then headed east into Gulfport. Day 3: Explored the Biloxi coast, stopping for sandhill-hunting, and then camped at Ft. Pickens SP, FL. Day 4: Spent most of the day on Pensacola Beach and treked into the Panama City area in the evening, overnighting in Tallahassee. Day 5: Morning drive through Tallahassee's covered roads and then spent most of the day swimming in Wakulla Springs, before heading east toward Daytona for New Years' fireworks. Day 6: Zipped over to Cape Canaveral and Merritt Island for bird and gator watching and a swim. Raced through Miami to Homestead. Day 7: Explored the interior of the Everglades, all the way into Florida Bay, and then camped at Pine Island. Day 8: Spent a cold day exploring the Anhinga Trail and then the Keys, including a nice little snorkel on Key Largo. Day 9: Crossed the Tamiami, stopping at Shark Valley, and then west into Naples for sunset and ice cream. Day 10: Started in Bradenton, stopped at Apollo Beach, and then north to Macon. Day 11: Explored northeast Georgia and the Smokies in the daytime and spent the night driving across I-75 and I-65 back home.