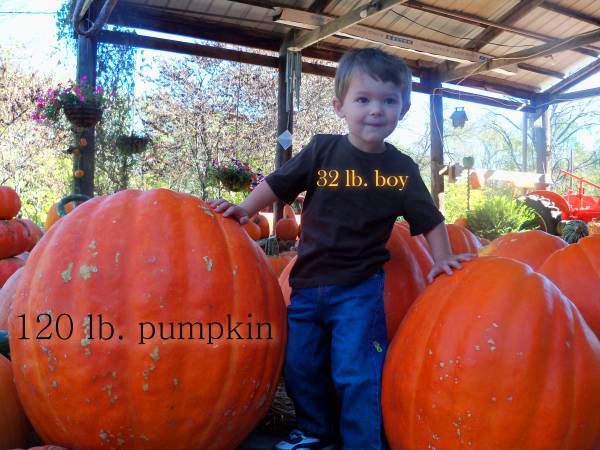 Picking through a giant pumpkin patch outside Springfield, IL.
---
A few more photos: Click each thumbnail for a larger image.

The selection at Jefferies Orchard in Springfield.

Andrew at the base of the Gateway Arch.

Andrew couldn't stop talking about the Arch for weeks.

Feeding the fish at Union Station.

Union Station's shopping mall is in need of a makeover.

The big slide on the roof of the City Museum building.

A newborn giraffe and mother at the zoo.

The lions were surprisingly active... maybe this isn't a good photo to illustrate that.

The closest elephants to Chicago live in St. Louis..

The Penguin House is the coolest part of the zoo.

A silverback guarding his zoo troop from zoo problems.
Statistics:
Dates: For a spontaneous Indian Summer weekend in October, 2010

Areas Explored: The usual sites in Saint Louis, MO
Transportation: 2009 Dodge Grand Caravan
Cast: Jessica, Andrew, Scott, Trish & Caty
Trip Notes: The weather was perfect and the winter is always right around the corner. Since we had the energy, we drove on down to St. Louis to have some fun at Ottertoberfest at our favorite zoo. The only two people crazy enough to drop everything and drive 12 hours round trip tagged along.
Click to see my last visit to Ottertoberfest
We started out at Jefferies Orchard near Springfield in search of Empire apples, but the crop failed this year and we settled for boring Fujis. Andrew was amazed at the giant pumpkins they had on stock.
Next stop was the Gateway Arch at the Jefferson National Expansion Memorial on the MIssissippi River. Andrew kicked around his soccer ball for a while and crawled in the park's lawns to get his "ya yas" out. As darkness fell and Andrew fell asleep, we went into Union Station for dinner and to shop for a bit. Andrew woke up in time to feed the rabid goldfish in the parking lot.
We continued to the City Museum and went up to the roof where we met Trish and Caty who had been driving all afternoon. There is never a dull moment at this place and when the lights went out at ten, we knew we were in for it. People disappeared into the floor and we promptly got lost.
The next day we went to St. Louis Zoo where Ottertoberfest was a bit toned down due to construction of a few new exhibits. The baby elephants were almost all grown up, but we found that we have a newborn giraffe to keep track of on our next few visits.
Before night fell, we were already off and on our way up I-55 and back home.