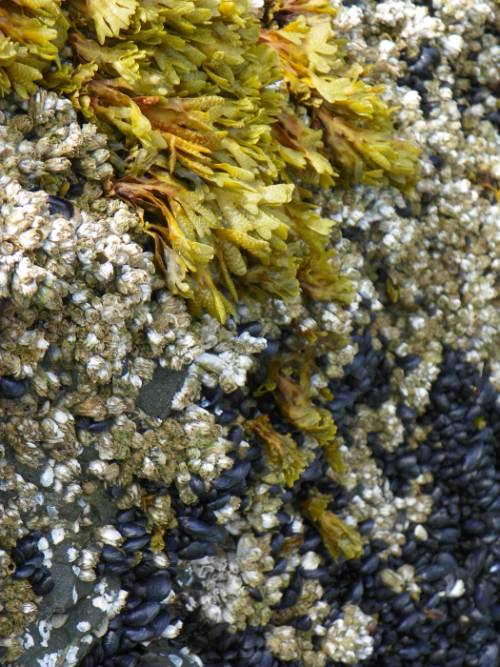 Sharp barnacles and seaweed covering the rocks in an Olympic Peninsula tide pool.

Statistics:
Dates: 20 days from July 4th to July 24th, 2011
Areas Explored: the Northwest U.S.A., i.e. the Driftless Region, the Upper Mississippi, Dakota badlands, Yellowstone Valley, Montana Rockies, Eastern Washington, the Cascades, Olympic Peninsula, Oregon Coast, Oregon high desert, Snake Valley, Wyoming's high plains, Black Hills, and southern Minnesota.
Transportation: 2009 Dodge Grand Caravan
New Frontiers: This was our longest road trip to date.
Cast: Scott, Jessica, & Andrew
Trip Notes: Day 1: Drove from Chicago, starting afternoon, to Lake Delton, where we saw fireworks and then slept at Mirror Lk SP, WI. Day 2: Hiked Mill Bluff SP, explored the Minnesota Mississippi River, and had fun at the Mall of America, ending the night in St. Cloud, MN. Day 3: Drove a great distance from St. Cloud, across North Dakota, to Roosevelt NP, ND. Day 4: Explored Roosevelt's distant North Unit and returned to Medora a second night fearing rain. Day 5: Beat the rain, and after a nap and safari, drove west into the Montana plains, ending the day in Pine Creek, MT. Day 6: Thoroughly explored Yellowstone's wilderness at Lamar, Hayden, and Canyon , and then camped in West Yellowstone, MT. Day 7: Drove northward through the Montana Rockies and swarms of flies to Spokane, WA. Day 8: Explored the Grand Coulee Dam and then climbed the scenic road into the Cascades, camping at Ross Lake NRA along Devils Lake. Day 8: Descended the Cascades, explored Whidbey Island, and crossed Puget Sound to land on the Olympic Peninsula. Ended the day high up the rainy mountain near Port Angeles. Day 9: Explored the Olympics, ending up at the log-covered beaches between Rialto and Kalaloch. Day 10: Hiked the rain forests before heading south across the Columbia to Astoria, OR. Day 11: Poked around the beaches of northern Oregon and slept at the fishing town of Depoe Bay. Day 12: Continued down the Oregon coast to Florence and then headed inland, sleeping in Roseburg, OR. Day 13: From Roseburg headed up the Umpqua River to Crater Lake NP, and then down into Tulelake before heading to Mount Shasta, CA. Day 14: Rounded Shasta and headed into the alkaline lakes of the high desert of southeast Oregon. Ended the day in Nampa, ID. Day 15: Drove across Idaho's Snake Valley, visiting Craters of the Moon, and ending in Idaho Falls. Day 16: Saw the Grand Tetons and then explored the lake region of Yellowstone, before heading east to Buffalo Bill SP, WY. Day 17: Crossed the scenic Bighorn Canyon and mountain range, ending across the plain at Keyhole SP, WY. Day 18: Explored Devils Tower and the Black Hills, ending our trip in Wall, SD. Day 19: After a trip through Badlands NP, headed through Mitchell, and into Minnesota's cereal country, sleeping in Jackson, MN. Day 20: Drove into Wisconsin, to Cambridge, and back into Chicagoland via US-12. (see route below)