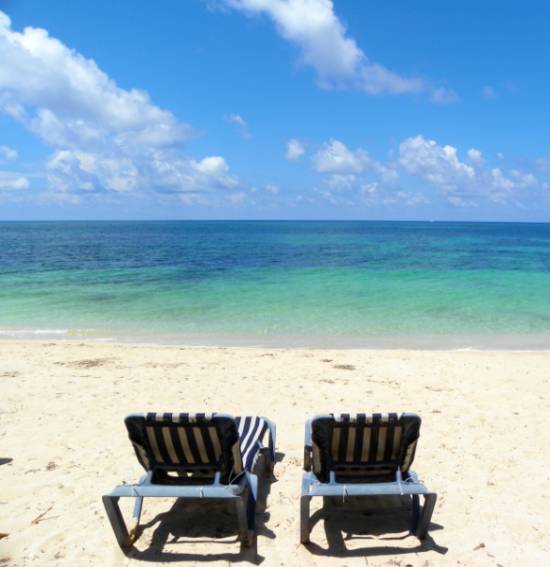 The serene beach at the east end of Roatán Island... well, serene if you're not afraid of lizards.
Statistics:
Dates: late August , 2011
Areas Explored: Mississippi Delta, Southeast Louisiana, the Yucatán Peninsula, Belize, Isla Roatán.
Transportation: 2009 Grand Caravan & the Norwegian Spirit
New Frontiers: First time for Scott and Andrew in México, new furthest South (but barely), first time in Central America, first cruise, first Mesoamerican ruins
Cast: Scott, Jessica, Andrew (and NOT Hurricane Irene)
Ports: New Orleans Erato Street Terminal; Mahahual, QR Costa Maya; Roatan Coxen Hole; Belize City, Belize; San Miguel de Cózumel, QR.
Trip Notes: Day 1: Drove to St. Louis and then down to West Memphis, AR. Day 2: Enjoyed a leisurely drive through Mississippi along the Natchez Trace, shopping in Metairie, LA, and ending the day in Kenner. Day 3: Headed down to New Orleans, enjoyed the River Walk and Quarter, and then boarded the Spirit, sailing down the Mississippi and out into the Gulf. Day 4: Enjoyed life on a cruise ship while at sea west of Cuba. Day 5: Spent day in the Costa Maya area, exploring the Chacchoben Ruins with a guide. Day 6: An adventurous day in Roatán, Honduras, punctuated by a relaxing beach. Day 7: Drove around the wilds of northern Belize and saw howler monkeys. Day 8: Landed at Cozumel and took a ferry to Playa del Carmen, drove south to Tulúm, and barely made it back to the ship. Day 9: At sea, watched brilliant thunderstorms over the ocean. Day 10: Back in the U.S.A, enjoyed the Quarter and Barataria and then headed north to Vicksburg. Day 11: Meandered north up the Delta to Memphis and then trekked home via St. Louis.