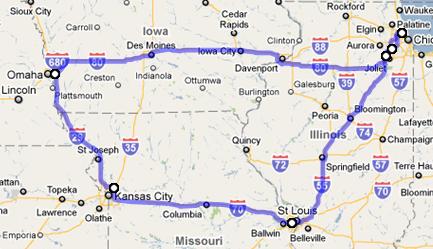 Originally our spring break trip was supposed to go to D.C., but circumstances and, mostly, the weather sent us to the freakishly warm Plains. (Went from 38° to 88°.) We wanted the trip to short and refreshing and it was.
Statistics:
Dates: March 30 through April 1, 2010; 3 zoos in 3 days with 2.5 sunburns
Areas Explored: the Missouri River valley from Council Bluffs, Iowa, to St. Louis, Missouri
Transportation: 2009 Grand Caravan
New Frontiers: St. Jo and the K.C. Zoo
Cast: Scott, Jessica, Andrew
Trip Notes: Day 1: Started at 4:30 a.m. and made it to Omaha's Henry Doorly Zoo by 1 p.m. After the zoo, drove south to historic St. Joseph, MO, for dinner and sleep. Day 2: Saw the sights around St. Jo and then headed to Independence, MO, for some history. Then we were off to Kansas City's Swope Park Zoo. That night drove across Missouri to Maryland Heights, stopping in Columbia for dinner. Day 3: Visited Forest Park and the St. Louis Zoo before enjoying the afternoon at the Gateway Arch and returning home.