2007-2008 Season Wrap-up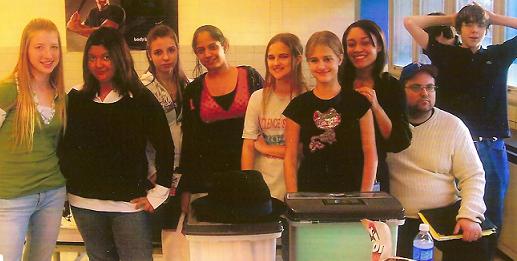 The Taft Debate Team at the Harlan tournament early in the 2007/08 season.
Sat. 10/6/07 Tournament #1
Lindblom 9th Annual Convocation
We did well at our first showing bringing in four JV debaters and one Varsity debater. Our Varsity debater won a speaker award.
Fri & Sat. 11/2-3/07 Tournament #2
Harlan H.S.
New JV debaters made a very successful showing at this debate, although no one came home with speaker awards. There is a lot of promise for the future of Taft debate.
Fri & Sat. 12/7-8/07 Mid-Season Classic #3
DePaul University
Our JV teams continued to improve with a strong showing and speaker awards. The Varsity team featured a new face, but once again was stuck in maverick status.
Fri & Sat. 1/11-12/08 Tournament #4 Finalists!
Hubbard H.S.
We finally broke through to the finals in JV and competed with our first full V team. One JV team made it to the final debate of the night. We brought home a JV and V speaker award. A much improved weekend!
Fri & Sat. 2/15-16/08 Conference Championships #5 Champions!
Hirsch Metro H.S.
After a successful tourney by all of our teams, we capture the JV AA Conference Championship and one speaker award.
Fri & Sat. 3/28-29/07 City Championships #6 Quarter finalists!
DePaul University Loop Campus
Our teams make it to the city championship and compete with the best teams in the city from the AA, A, and RCC conferences. We defy the odds and beat many RCC and A teams at the V and JV level. Our conference champion JV team tears through the competition and makes it to the quarter finals, something a AA hasn't done for some time at the city championship. We are the last AA JV team left standing. Taft was also recognized by the CDL as one of the most improved teams in the league. A perfect way to cap off a great season.