2008-2009 Season Wrap-up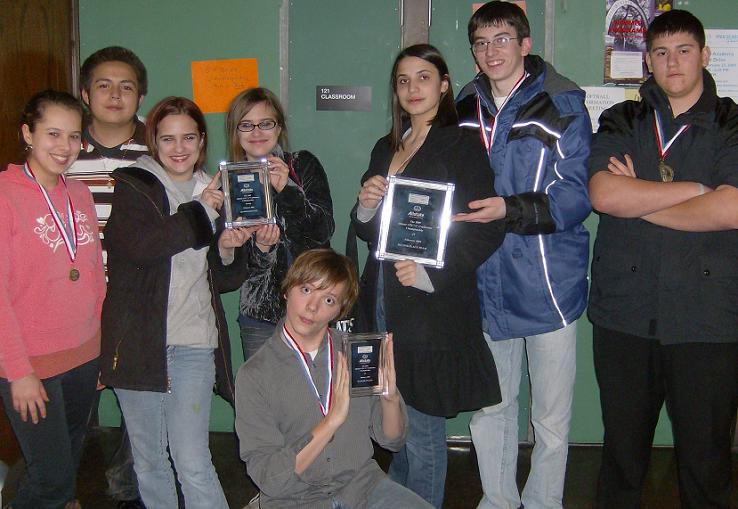 The Taft Debate Team at the Allstate Conference A championships at Kenwood.
Sat. 10/4/08 Tournament #1
John Hope Prep H.S.
We made a great reentry to the A Conference, with our biggest group in years. One JV speaker received a 5th place speaker medal and two of our Varsity debaters were highly ranked. One of our JV teams won second place, losing first by only half a speaker point.
Fri & Sat. 10/31-11/1/08 Tournament #2
Von Steuben H.S.
A rocky start was brightened by a big JV speaker award and our capture of the JV Tournament Championship. Our Varsity continued to make progress and shows promise for the big Mid-Season Classic.
Fri & Sat. 12/12-13/08 Mid-Season Classic #3
DePaul University - Lincoln Park
Event planners made many mistakes and playoffs could not be held. It took several days to find out that we captured the JV Tournament Championship by placing first. We also had a team finish in 6th place and qualify for the city tourney. Our Varsity team had a rough tournament and were unable to make progress.
Fri & Sat. 1/9-10/09 Tournament #4
Farragut Career Academy
A smaller group made their way down to this event. We had three speaker awards, which is a record for our team. One debater was able to land the top speaker award in JV. Many of our teams came close to qualifying, but one JV team did make it to the quarter-finals.
Fri & Sat. 2/15-16/09 Allstate Conf. A Championship #5
Kenwood Academy H.S.
We set several team records at this event. It was definitely the best showing by Taft in many years. We were able to come away with one Varsity speaker award and three big awards at the JV level. Teammates were able to high five each other on the way up to the medal stand. Both of our JV teams made it to the playoffs. Both teams were undefeated and were seeded #1 and #2 in the playoffs, with one team going all the way to final debate. One Varsity team was a quarter-finalist. Our chances at the city championships seem very good, if we continue to work hard at practice.
Fri & Sat. 3/27-28/09 City Championships #6
Chicago Vocational Career Academy
Another successful showing at the city championships, where we always seem to surprise everyone. This tourney is by invitation and only includes the best of the best. We doubled last year's participation at this event by bring four teams. We were proud to have both Varsity and JV teams make it to the Octo-finals. We took down some very competitive and highly ranked teams. Our JV Octo-finalists were undefeated and a third seed. They were, by far, the best seeded team from our conference at the tourney. We also walked away with a JV Speaker Award. We will be a quiet force to be reckoned with next year.