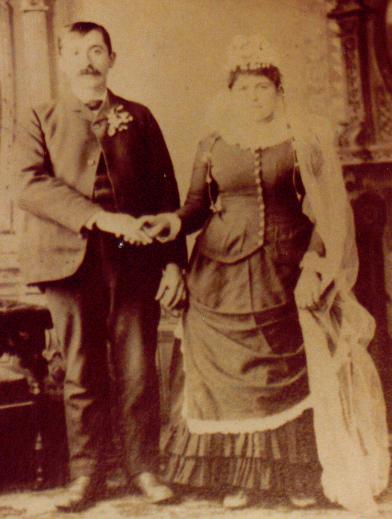 The wedding of Clemens Ott and Mary Wilger, his second wife, in 1885 at St. Alphonsis Church in Chicago.
---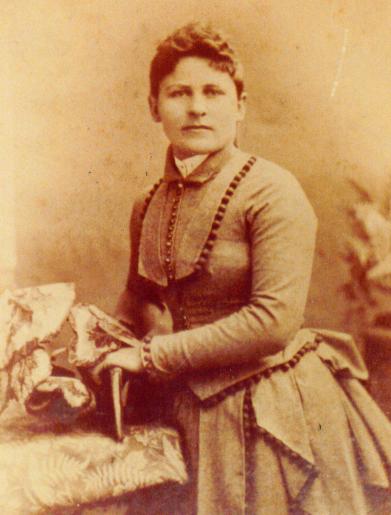 Anne Marie "Emma" Ott was Clemens' first wife. She died after giving birth to Margaret Ott-Kalb in 1885 in Chicago.
---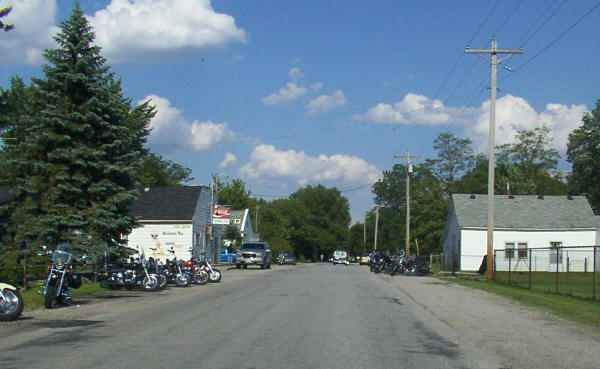 A modern shot of the main drag of Kniman, Indiana, where the Otts made their home in the 1890's..
---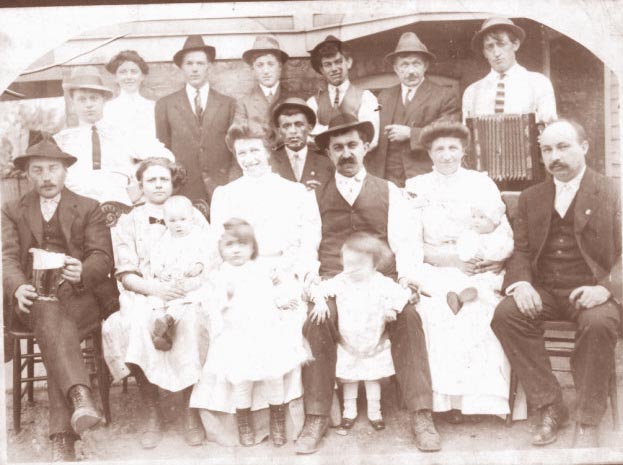 The Ott family pictured in Kniman around 1903, according to Fritz Ott.
---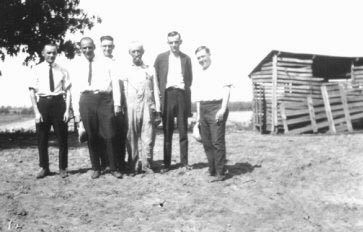 Clemens Ott (center in overalls) on his Kniman farm in the 1920's right before his death.
---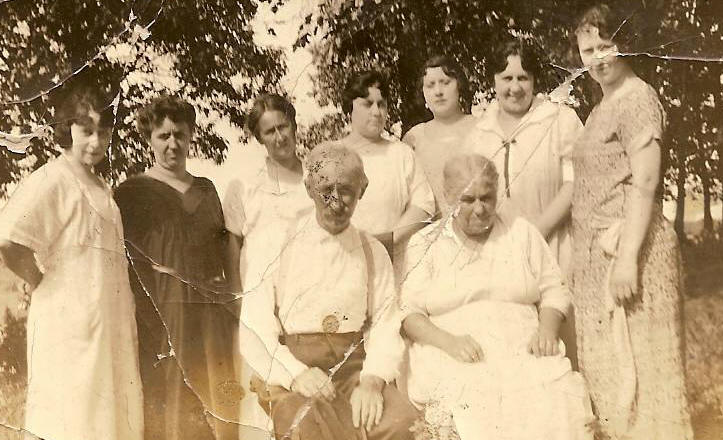 Clemens Ott (center, seated) and Mary, his wife,surrounded by daughters in Kniman.
---
Clemens "Mark" Ott, the first child of Nikolaus the cobbler and Anne Marie Dorschied, was born September 14, 1857, in Kell. He arrived with his stepfather in America in October of 1871 and settled in Chicago just before the famous Great Fire. While working as a laborer, at St. Michael Church, he married a house servant named Anne Marie Ott, also of Kell by way of Jefferson, Wisconsin, but of no known relation. They had two children until Anne Marie died February 12, 1885, shortly after the birth of her second daughter. Clemens married her friend Mary Wilger later that year, November 10, 1885, at St. Alphonsis Church in Chicago. They had several daughters and one son, the last few being born in Indiana. Clemens moved the family from Chicago to the town of Kniman in Walker Township, Jasper County, Indiana, around 1900. He managed a large farm here with his wife until he died July 31, 1926...

Before I began my research Clemens Ott was a mystery. I had seen what supposedly were photographs of him and heard a couple stories from his daughter, my Aunt Fritz, but mostly he was a name. Starting from here, I began my research with only his name, his birthday, and little else. As I removed record after record from the dusty archives of three states, I began to see the picture of an extraordinary and very American life. Starting from nothing as a stranger to the U.S., Clemens worked hard to find better opportunities and to make something of himself, lovingly preparing the way for his family to succeed in this country. His story parallels those of many Catholic Germans arriving in the Midwest, struggling to build a real nest in America despite bitter nativist politics and real economic hardship.

While much of Clemens' life is still a mystery, I have been able to unfold many aspects of it and have managed to weave it and the greater history surrounding Clemens' life in a monograph that is yet to be complete. (See link below.) I hope that it may be an aid to those studying German immigration to Chicago in the late 19th century.

excerpts from "The Ott Chapter" by Scott Plencner:

This was the tenuous environment into which Clemens was born humbly to a poor, young cobbler

named Nikolaus Ott and his wife Anna Marie Dorschied, named for the famous empress of Catholic Austria, the daughter of a supporter of the Catholic cause... The couple would have one more child together, before Nikolaus died in the cold January winter of 1860 at the age of twenty-seven. Anna Marie, with two young children, was left a widow at the age of twenty-four.

1864 saw even more chaos enter into the lives of the young family as the Prussians, led by Otto von Bismarck, a dedicated nationalist whose main goal was a united Germany, declared war on their competitors in the German world, the Austrians. Austria's Luxemburger allies fought Prussian armies in the region for control of the Rhine valley. War disrupted everything. Young men were forced to serve the very Prussian army that most Trevians despised. Bismarck called them in the name of "Deutscher Bund." Trevians were not so focused, though on nationalism as Bismarck was, and secretly aided their Catholic enemies. The religious strife that had rocked the area for centuries was about to flare up again...

After it was clear that the Prussians would be victorious over their Austrian foes, Bismarck responded to Catholic infidelity with "Kulturkampf."... His efforts were meant to destroy any loyalties German subjects held to anything besides the Prussian state. Its repressive effects were devastating and often violent for Catholics, especially the loyal Catholics of Trier...

Fed up, perhaps, with the bad times brought about by the Kulturkampf and the Prussian occupation, the Otts had already fled Germany. In the summer of 1871, Nikolaus Ott and his family, including his oldest stepson Clemens, were bound for America... The politics of Europe were far behind them now. The exciting challenges and prospects of life in America lied ahead.

Chicago in 1871 was exploding into its destiny as a metropolis... The city was an unorganized, clogged, stuffy labyrinth of brick and wood. The only refuge lied in the endless prairie on the outskirts where the more wealthy followed railroad tracks and moved out, supplanting occasional farms, to escape the festering trouble that brewed every night in the city streets. The poor, on the other hand, were forced to remain in the city center, close to work. Naturally the German ghetto directly north of the Chicago River, wherein the Otts first made their home, was crime-ridden. It was not the place promised in the advertisements...

Only three months after they arrived in America, they underwent one of the greatest disasters in American history. It is not known exactly where the Otts lived at the time of the fire, but they were parishioners at St. Michael Catholic Church. The entire North Town neighborhood, mainly composed of German immigrants, that surrounded St. Michael's was destroyed. The church itself was gutted. Its walls and tower stood, though scorched, providing for what the Daily Tribune called "the most imposing ruins on the north side."...

The first stop for Germans moving north up Lincoln and for Clemens and his bride was the truck farming town of Lakeview. Lakeview originally was a Lake Michigan resort, but a small neighborhood sprung up around it and became a center of local commerce for many of the ethnic Germans nearby growing vegetables for sale in Chicago. These farmers built St. Alphonsis Church. Many St. Michael's parishioners like Clemens and Emma began attending church at the now closer church and a new German-Catholic community flourished around the church...

Emma delivered her second daughter Margaret Ann Ott on February 4, 1885. Obviously the delivery of Margaret left Emma in a deteriorated state because she died eight days later. As of today, I have yet been able to locate Emma's burial place, but I have been led to the conclusion by many from the Archdiocese who have helped me with this, that she was probably buried in the old city cemetery where Lincoln Park now stands... After only four years of marriage, Clemens was left a widower with two baby girls, but he would not be alone for long.
---
More on this family:
part of a genealogical book I am working on
---
Links to related families:
None are online yet.
---
Links to sites by those working on related lines:
Heribet Scholer
Dave Hein on the Horsch line
---
Info on Trevians in Chicago:
Coming Soon!
---
Special thanks to my cousin Roberta Culhane, who helped me with research on this family. Thanks to John Reiff of Wisconsin. Thanks also to the Jasper County Library in Demotte, IN, and the IRAD Thanks also to Dave Hein..
---