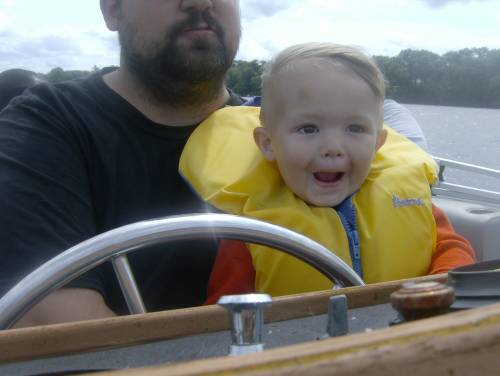 Andrew gives boat driving a try on Buffalo Lake.
---
A few photos: Click each thumbnail for a larger image. To see caption rest pointer over thumbnail.
Statistics:
Dates: For a week and change, beginning in late July, 2010
Home bases: Steve's Cottage in Montello, WI; The Woodlands Resort in Sayner, WI; Wells SP, MI
Areas Explored: Northern Wisconsin
Transportation: 2000 Buick LeSabre, pontoon boat, rented canoe, and a rented Yamaha outboard motor
New Frontiers: Iron country along the Wisconsin/Michigan border
Cast: Jessica, Andrew, Scott - Rotating guest stars: Israel, Glory, and progeny; Mike; Sam & Jeff; Paul & Tobi
Trip Notes: We began this trip a bit early by heading toward the Dells area with Glory and Israel, staying in the cottage of cousin Steve on Buffalo Lake near Montello, WI. The next day we skipped northward to our old Sayner stomping grounds at the Woodlands and enjoyed a week on Plum Lake being visited by various friends; ended the week alone again and drove east into Iron country where we ended the night at a great campsite on Lake Michigan's U.P. shore at J.W. Wells SP. The next morning, as we intended, we visited Paul and Toby at their church in Marinette. On the way home we stopped at the NEW Zoo in Suamico to see a moose for $5 and then carried on back home.