Statistics:
Dates: The first week of August, 2012
Home bases: The Woodlands Resort, 'Oak' Cottage
Areas Explored: Vilas County, Wisconsin, & the Upper Peninsula of Michigan
Transportation: 2009 Dodge Grand Caravan, the Pelican canoe, and a rented jonboat
New Frontiers: First time
Cast: Jessica, Andrew, Scott, Barbara, Micah, Marlin, Samantha, and Ryan
Underwater videos of fish getting hooked, minnow schools, crayfish coming as soon as I can edit them!
Trip Notes: This year's trip to Sayner was full of boating, floating, fishing, and absolute utter relaxation.
We stayed at the Woodlands' Oak cottage on Plum Lake for the fifth year in a row. There was a lot of trouble renting outboard motors since Errington's no longer rents to F.I.B.'s because we tend to mess up the props on the rocks. This policy remained firm even though I know just about every rock on the bottom of Plum Lake.
Luckily Hillery rented us one of his boats, since much of his family skipped his annual "Family Week" that happens the week of our annual trip. I sometimes wonder if family members think we are related.
Fishing was a bit more productive, but we were mainly snagging little pumpkinseeds and tiny bass. Still, the fight was just enough for Andrew's first fishing trips right around the bend from the resort on Plum Lake.
Steps to hunting in Plum Lk
Step1: Find some grass just under the water.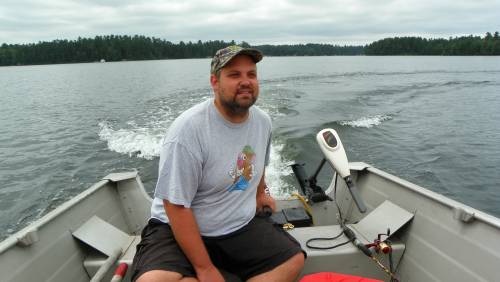 Step2: Look through the clear water for a fish.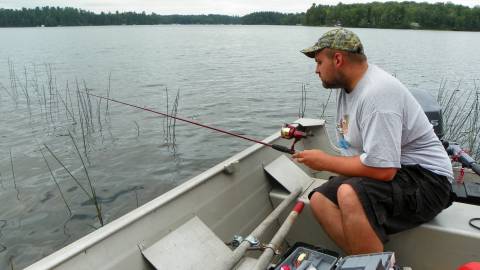 Step3: Ouila! He ain't much, but you got him.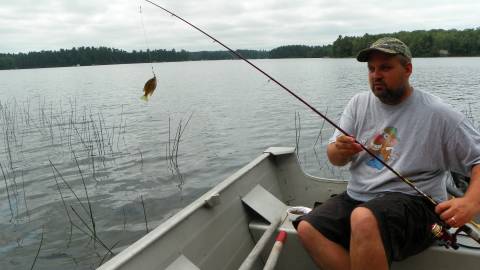 There was one day of on and off summer thunderstorms. While Jessica and Andrew and I stayed in, Sam led the team during the midst of one of these hailstorms in a disastrous bike trek to McKay's Corner Store.
We managed to do the important jobs one must do at the Woodlands, including crayfish stalking, board game playing, tubing, swimming, hiking, paddling, and drinking beer around a fire every day. The chores are a terrible burden.
We did manage a few side trips here and there. On the way, we managed to get into Forevertron. A group went to Eagle River. Another group went swimming for a time in the frigid waters of Lake Superior, a couple of hours north in the U.P. While here, in the Porcupine Mountains, we discovered some new waterfalls and mysterious hiking trails. Sam and Scott also canoed Aurora Lake, but were turned around by a swarm of hornets guarding the passages in the swampy lake.
A highlight was the spotting of a curious, scrawny black bear along WI-70 near Arbor Vitae.