Statistics:
Dates: For a week, beginning 7/30/2011
Home bases: The Woodlands Resort, 'Oak' Cottage
Areas Explored: Vilas County, Wisconsin, & Wisconsin Dells
Transportation: 2009 Dodge Grand Caravan, the Pelican canoe, and a rented Yamaha 8hp outboard motor
New Frontiers: First time canoeing Aurora Lake, Ballard & Irving Lakes.
Cast: Jessica, Andrew, Scott, Barbara, Micah, Marlin, & Samantha
Trip Notes: 2011's trip to Sayner proved to be the most relaxing in many years. The weather was great. The sun was out most days. The water and the air was warm, but not hot. (This made for horrible fishing, but whatever... ) Because of this, we spent more time in the lake than usual.
We stayed at the Woodlands' Oak cottage on Plum Lake for the fourth year in a row and were treated warmly by our hosts Larry & Kathy. It was our seventh time to the Woodlands and by now we were old pros. We know where to get supplies on the way up US-51. We know how to get the motor cheaply on the boat. (Thanks to nearby Errington's.) We know the lakes and the hills and the places where animals hang out and we stayed put most of the week taking it all in.
The warm days were full of swimming, fishing, canoeing, exploring. The long, cool nights were full of fires, movies, games, and food. This is what I always seek when I am tramping across the country and it is always right in Vilas County.
There was definitely more eagle activity in 2011 than in years past, although many of the familiar nests were missing. It seems there are new eagle families moving onto Plum Lake.
It was good seeing Andrew enjoying the same place I enjoyed when I was his age. There is some comfort in this tradition, to be sure.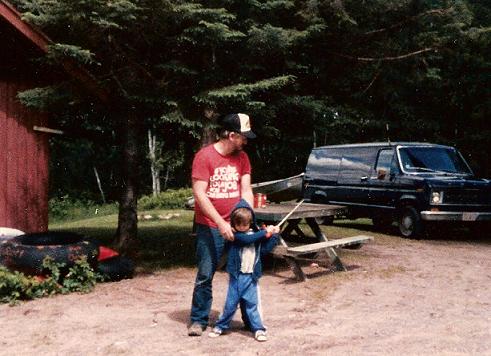 3 year-old Scott and his Dad in Sayner, 1983.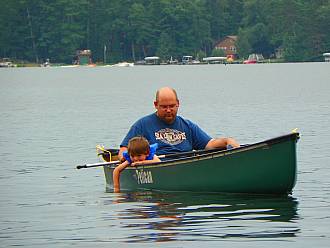 Scott and his 3 year-old Boy in Sayner, 2011.
We did little outside travel except for a canoe jumping trip on Aurora "Lake" and then Irving and Ballard Lakes. It was on my bucket list to explore the mysterious wild of the eutrified Aurora Lake. It's bottom was ten feet of snail-filled mud, but there was evidence that there are still large pike in the lake at certain spots (although they weren't hungry in the August heat.) Ballard Lake was windy and full of hungry little crappie and bluegills. We also found sport in fishing for fry in the fallen trees near 'Dad Bay' on Plum Lake.
Other excursions involved us shopping in Eagle River and St. Germain and eating Friday Fish Fry in Boulder Junction and burgers in the Sayner Pub.