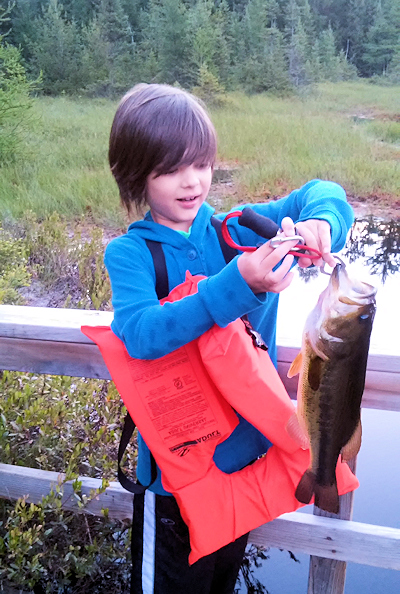 While packing the kayaks after catching a huge bluegill we put an unattended bobber in the lake. When we returned, this mean bass was on the end of the line at Blueberry Lake.
---
Trip Notes: Good mix of cool and warm weather for this year's trip with onlty one day of rain and lightning. The conditions made for some of the best fishing up here ever. Kayaking was also made a top priority this year. We were able to portage and drag our boats into some pretty inacessible places and were able to see sides of the Vilas woods we hadn't seen before. Such fun was had we attempted something we hadn't done in years and took an additional camping trip up to Sayner to cap off the summer. Sicne this trip started the summer, Sayner became our summer sandwich bread.
It was our ninth year in a row at the Woodlands' on Plum Lake, but our first time in the bigger, lakeside Maple cottage (despite having a smaller group). We were unable to attend to the Maple last year despite having reserved it. The upgrade proved to be luxurious and we discovered all we had been missing over the years by renting the 'Oak' up the hill. While the 'Oak' is more modern, there is something romantic about waking up and seeing Plum Lake out your bedroom window in the morning.
Much of this trip was spent on the move, mostly in a kayak, mostly with fishing poles.
THIS PAGE IS UNDER CONSTRUCTION
(recollections by Scott, jotted down several months later)
Statistics:
Dates: June 25 to July 2, 2016
Home base: The Woodlands Resort, 'Maple' Cottage
Lakes Explored: Plum, Razorback, Ballard, Irving, Little John Junior, Crystal, Blueberry, Allequash Springs, Lone Tree, Aurora, Trout, Starrett, Frank, Firefly, Escanaba, Star, Little Star, Fallison
Transportation: 2014 Town & Country with 2 Viper kayaks strapped onto the roof rack
New Frontiers: First time early in the season, first in Maple.
Cast: Jessica, Scott, Andrew, Anastasia, & Barbara
A few photos: Click each thumbnail for a larger image and slideshow.